In this section you can find the approved auction schedule for 2020. The auction schedule was approved by the Order of the Minister of energy of the Republic of Kazakhstan dated May 21, 2020 No. 202 and is not subject to change during the calendar year.
The total installed capacity planned for selection in 2020 is 250 MW, broken down by type of power plant:
- solar power plants (SPP) – 55 MW (of these 2 projects with documentation the installed capacity of each project is 20 MW);
- wind power plants (WPP) – 65 MW;
- hydroelectric power plants – (HPP) - 120 MW;
- bioelectric power plants (BioPP) – 10 MW.
In 2020, there will be 8 auctions for the selection of renewable energy projects by type (HPP, BioPP, WPP and SPP), 6 of the auctions - without documentation (dates from 9.11.2020 to 25.11.2020), 2 of the auctions - with documentation (dates of 8.12.2020 and 10.12.2020).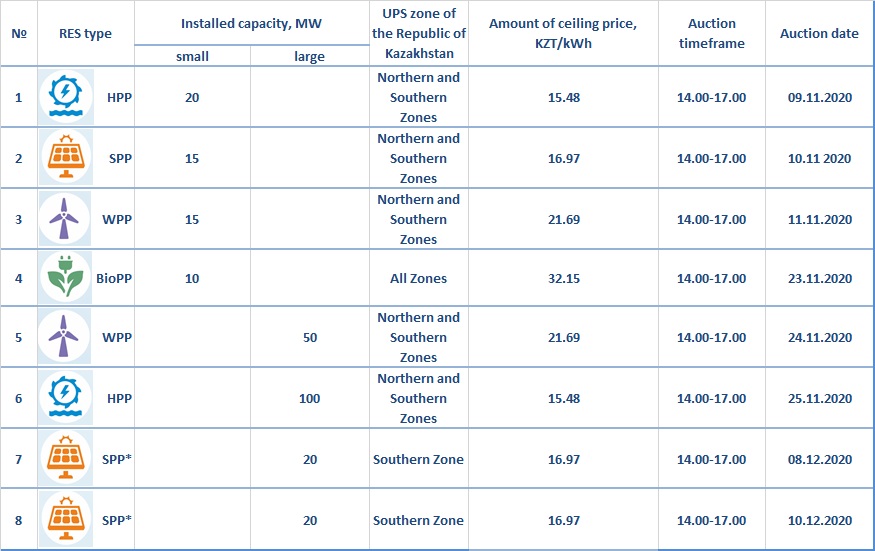 * With documentation auction – an auction in which the applicants are provided with the documentation defining the main technical and economic parameters of the project for construction of new RES facilities. The terms of participation in the project auction 2020 and its parameters – here.